BVI Yacht Charters with Charter Guru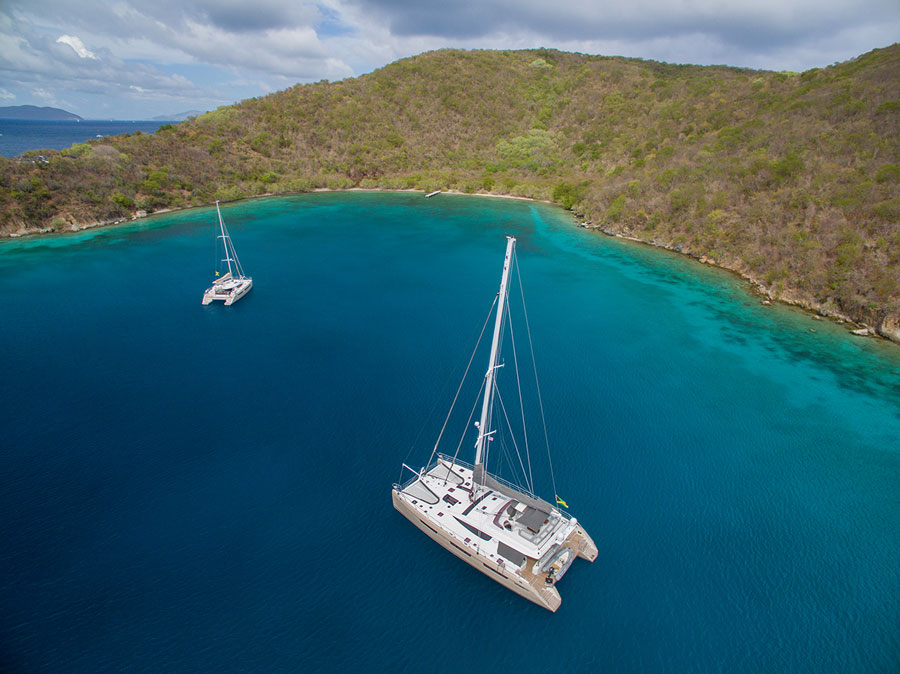 Welcome to Charter Guru BVI, the ultimate search engine with over 400 BVI yachts for charter. Our Florida, California, BVI and USVI based brokers are ready to assist you with your search. Crewed yachts, bareboats, sailboats, motoryachts, we have them all. Just fill out a simple form and we will call, advise and book it for you!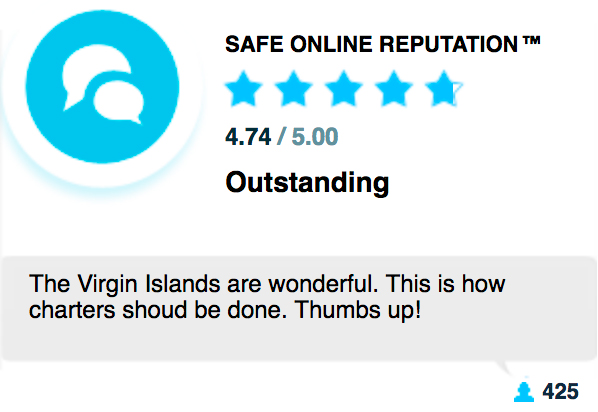 Crewed charter
The crewed charter usually includes at least a captain and a chef. The boat is provisioned according to guest wishes and preferences. Since all the work is handled by the crew (captain handles the boat and the chef handles the food, and often more (diving, watersports)), the guests can really have a relaxed, laid back time.
Captain only charter
Captain only charters are a good middle ground between the crewed charters and the bareboat charters. It's very much like car rental. You do the paperwork and rent the boat. Local experience of the crew should not be underestimated. A captain will know secret spots and is able to quickly analyze your preferences and types of vacation you wish (or need).
Bareboat charter
Bareboat charter is the budget friendly option for qualified sailors. Originally intended for people who know the area, the price convenience caused that today, many of the bareboat captains would be better off with a captain only charter. If you haven't been to the BVI before or you haven't that much experience sailing the boat you wish to charter (rent), consider a captain only charter, you will thank us later:) At the moment, we don't include bareboats in our search, please inquire directly and we can find a matching bareboat for you.
List of BVI charter companies
Name
Description
Phone
Address
Website
Moorings
One of the largest fleets, offers crewed and bareboat, sail or power.
+1 284-393-2331
Wickhams Cay 2, Road Town, British Virgin Islands
moorings.com
Sunsail
Moorings and Sunsail merged, creating the largest BVI fleet.
+1 284-494-2226
Wickhams Cay 2, Road Town, British Virgin Islands
Sunsail
BVI Yacht Charters (BVI/SXM Yachts)
Third largest, offers mainly bareboats. True local presence, have been around for a while.
+1 888-615-4006
Joma Marina, Port Purcell
Road Town, Tortola
British Virgin Islands
bviyachtcharters.com
Horizon Yacht Charters
Nice people there! Located in popular Nanny Cay, horizon is best known for their catamarans and crewed charters
888-615-4006
Nanny Cay Marina
Tortola, British Virgin Islands
horizonyachtcharters.com
Virgin Motor Yachts
Alexia & co are rolling it with the motor yachts only, always a pleasure to have a drink at Peg Legs. Virgin Motor Yachts offer also yacht ownersho plans
Direct Dial:
+1 (284) 495 2526

USA Toll Free:
888 684 6486
H Dock
Nanny Cay
Tortola
VG1110
British Virgin Islands
virginmotoryachts.com
TMM Yachts
TMM, our neighbors, literally 50m from our BVI office. Nice selection of catamarans and yacht ownership plans. Thank you for letting us use your dock tables for some brilliant lunches!
1-877-648-6721
Road Reef Marina
Road Town, Tortola, BVI
https://sailtmm.com/
Conch Charters
Our other neighbours. Conch charter focuses on bareboats. Their motto: "Deals on keels" really sums up what's going on. Value bareboats, especially some nice catamarans.
1 284 494-5793
Waterfront Dr,
Road Town,
British Virgin Islands
conchcharters.com
Footloose Charters
There always seems to be at least one catamaran from Footloose in White Bay at all times. A neighbor of Moorings and Sunsail.
1-800-814-7245
Waterfront Drive,
Road Town,
Tortola
www.footloosecharters.com
Voyage Charters
Catamaran charters from Soper's Hole. Offers bareboat, captain only and crewed options.
+1 410.956.6919
Sopers Hole Marina, VG1130,
British Virgin Islands
voyagecharters.com
MarineMax Vacations
Power catamarans, located in Road Town.
1 813 644 8071
Waterfront Dr,
Parham Town,
Tortola,
British Virgin Islands
marinemaxvacations.com
Alquila Vela
The BVI fleet consisting of various Lagoon catamarans and Dufour sailboats.
Office: +1 284 346 2242
Cell (BVI): +1 284 340 2249

JY Harbour View Marina, P.O. Box 2814 East End, Tortola
British Virgin Islands, VG1120

alquilavela.com
Catamaran Company
With main office in Fort Lauderdale, FL, the BVI branch specializes in Sunreef, Lagoon and Gemini catamarans.
1800 262 0308
Hodges Creek Marina,
East End,
Tortola
catamarans.com
Dream Yacht Charter
An international company with just under a 1,000 boats, 92 of which are located in the BVI (2/3 catamarans, 1/3 monohulls)
866.469.0912
Dream Yacht Charter
7080 Bembe Beach Road
Annapolis, MD 21403
dreamyachtcharter.com
VSV vacances Sous
A yacht charter company based in Canada. The BVI branch is based in Nanny Cay. Offers bareboat and crewed charters. They specialize in Bali catamarans.
1.284.499.1711
Nanny Cay Marina, 'B' Dock
Road Town, Tortola
British Virgin Islands, VG1110
vacancessousvoiles.ca
About the BVI
Most people would start with 50 islands and cays, right? Let's start with the relaxed and chilled atmosphere where liming was invented (drinking/eating and chilling for hours without a defined schedule). It's the freedom that you can have when sail to bars like Willy T, the optimism and positive energy that you recuperate over the course of your vacation, that's what makes the BVI special.
You can immediately tell the people who arrived yesterday. Full of stress, solving small things… a bundle of nerves that we turn into after prolonged experience with the "real world." After a few painkillers (the BVI signature drink) or Frozen Margaritas (Willy T is the place), every pain diminishes and the problems fade away. These same people leave after a week smiling, optimistic and full of energy.
Snorkeling at the Indians, diving the Wreck of Rhone, surfing at Bomba Shack (Capoons Bay) or  a visit to The Baths (Virgin Gorda) are the part of charter that provide those memorable moments people have been coming back for.
BVI yacht charters after Irma
Due to unusual events in the 2017, mainly connected to the passing of the hurricanes Irma and Maria, many of the best crewed boats and bareboats are still available for charter this season. Please contact our brokers to get the current offer and applicable discounts. If you have ever chartered in the BVI or consider chartering, this season is ideal. The places that are usually full of boats are scarcely occupied. Returning guests are reporting 'virgin' conditions, due to the smaller amounts of boats.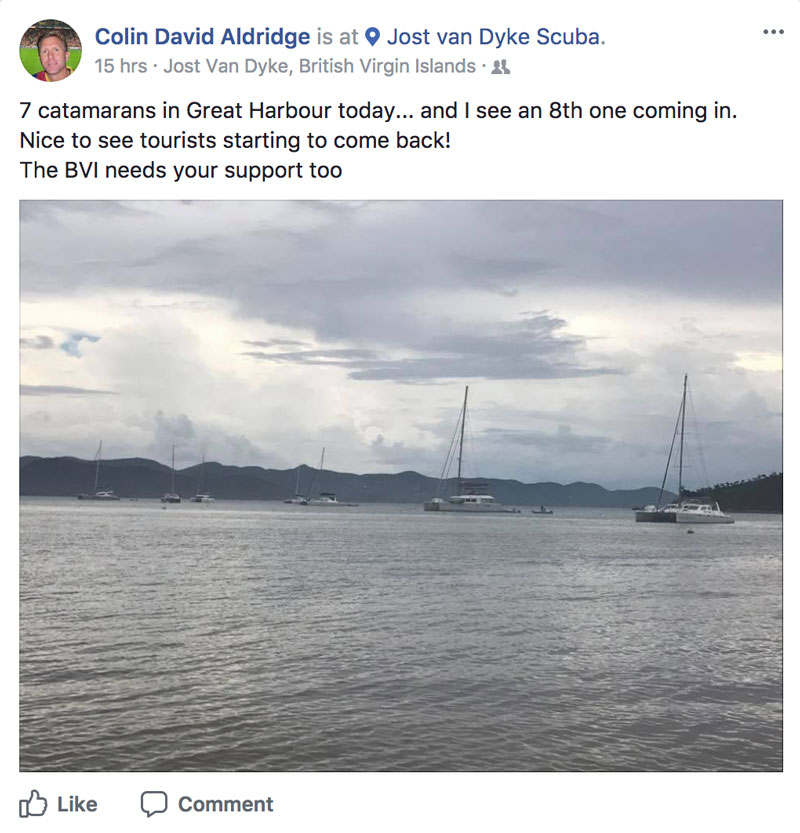 Top 5 BVI yacht charter locations
The secret one are the best. The license plates of the BVI cars say "Nature's Little Secrets." That's spot on. If you want to know some secret spots, talk to our brokers. Get on the chat or inquire about the yachts. Kerry has been crew of a charter boat in the BVI for over 15 years. Well, let us give you some of the best known places:)
The Baths
White Bay (Soggy Dollar, Ivan's, Uncle Wendell's, bars…)
Sandy Cay and Sandy Spit
Norman Island Caves, the Indians and Willy T
North Sound, Virgin Gorda